To read the full article (& rest of this series), order The Vice of Kings: How Socialism, Occultism, and the Sexual Revolution Engineered a Culture of Abuse.
"The state not only had a vested interest in becoming an active agent of evolution, it could not help but become one, willy-nilly. Fabians set out to write a sensible evolutionary agenda when they entered the political arena. Once this biopolitical connection is recognized, the past, present, and future of this seemingly bumbling movement takes on a formidable coherence. Under the dottiness, lovability, intelligence, high social position, and genuine goodness of some of their works, the system held out as humanitarian by Fabians is grotesquely deceptive; in reality, Fabian compassion masks a real aloofness to humanity. It is purely an intellectual project in scientific management."
— John Taylor Gatto, Underground History of American Education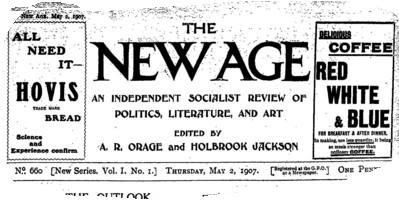 According to a citation-free source (Larouche) which is possibly apocryphal, another of Robert Graves' affiliations was with a late-night drinking circle at Oxford consisting of poets and occultists, some but not all of whom were contributing writers for Alfred Orage's magazine The New Age. This latter is worth a brief mention. It began as a journal of Christian liberalism and socialism before being re-oriented to promote the ideas of Nietzsche and Fabian socialism. It famously published a debate on the role of private property, with H. G. Wells and G. B. Shaw on one side, and G. K. Chesterton and Hilaire Belloc on the other. It also discussed the need for a socialist party as distinct from the newly formed Labor Party. The editorial line moved from initial support to bitter opposition over the issue of women's rights in 1912. As The New Age moved away from Fabian politics, the leading Fabians founded The New Statesman and Nation to counter its effects, in 1913. The New Age also concerned itself with the definition and development of modernism in the visual arts, literature and music, and consistently observed, reviewed and contributed to the activities of this movement. It also became one of the first places in England in which Sigmund Freud's ideas were publicly discussed.
Orage's collaborators and cohorts included Aleister Crowley, W. B. Yeats, Ezra Pound, and (allegedly) Robert Graves. There's certainly a significant area of overlap, and once again, the intelligence community seems to have colonized, if not created, the vesica piscis in the Venn diagram. In this case, the fish takes the form of the Congress for Cultural Freedom, an anti-communist advocacy group created by the CIA in 1950, via the Ford Foundation.[1] The CCF had a magazine called Encounter which attracted some of the leading intellectuals of the period and beyond (despite having its intelligence roots revealed, Encounter continued until 1990). Contributors included Graves, Stephen Spender (founder), Melvin J. Lasky (co-founder), John Strachey, Evelyn Waugh, Virginia Woolf, W. H. Auden, Arthur Koestler, Anthony Burgess (who had his own MI5 affiliations), Ted Hughes (whom I met as a child), Jorge Luis Borges, Dwight Macdonald, Arthur Schlesinger, Jr., Kingsley Amis, Malcolm Bradbury, Tavistock employee R. D. Laing, Aleksandr Solzhenitsyn, Marshall McLuhan, Phillip Larkin (who according to my brother's memoir visited our childhood home), Paul Theroux, Elias Canetti, D. M. Thomas, David Lodge, Martin Amis, and Clive James. It's been only half-jokingly called "some of the best money the CIA ever spent."

Alec Horsley's friend J. B. Priestley attended a CCF meeting hosted by Arthur Koestler in 1956, and Bertrand Russell was one of its chairmen during the early years. Since Russell was viewed as a great philosopher and humanitarian, it's easy to see how the CIA would want someone of his caliber to lend credibility to their cultural battleship. On the other hand, a chairman has power to steer the ship, so it seems unlikely the CIA would take a chance on someone not already in intelligence employ—or perhaps that of a higher governance body? While trying to ascertain Russell's possible intelligence connections, I ended up reading online passages from Russell's 1931 work, The Scientific Outlook. I was surprised to see that it reads like a manual for totalitarian control.
"[T]the scientific rulers will provide one kind of education for ordinary men and women, and another for those who are to become holders of scientific power. Ordinary men and women will be expected to be docile, industrious, punctual, thoughtless, and contented. Of these qualities, probably contentment will be considered the most important. In order to produce it, all the researches of psycho-analysis, behaviourism, and biochemistry will be brought into play. . . . All the boys and girls will learn from an early age to be what is called 'co-operative,' i.e., to do exactly what everybody is doing. Initiative will be discouraged in these children, and insubordination, without being punished, will be scientifically trained out of them. . . . Except for the one matter of loyalty to the world State and to their own order, members of the governing class will be encouraged to be adventurous and full of initiative. It will be recognized that it is their business to improve scientific technique, and to keep the manual workers contented by means of continual new amusements. . . . In normal cases, children of sufficient heredity will be admitted to the governing class from the moment of conception. I start with this moment rather than birth since it is from this moment and not merely the moment of birth that the treatment of the two classes will be different. If, however, by the time the child reaches the age of three it is fairly clear that he does not attain the required standard, he will be degraded at that point. [T]here would be a very strong tendency for the governing classes to become hereditary, and that after a few generations not many children would be moved from either class into the other. This is especially likely to be the case if embryological methods of improving the breed are applied to the governing class, but not to the others. In this way the gulf between the two classes as regards native intelligence will become continually wider and wider. . . . Assuming that both kinds of breeding are scientifically carried out, there will come to be an increasing divergence between the two types, making them in the end almost different species." (Routledge, 2009, emphasis added. Ebook, so no page numbers.)
This was my grandfather's colleague, correspondent and fellow Fabian, to whom he made an unknown number of monetary donations? Is it then safe to assume he approved of Russell's plan for a scientifically engineered society in which the division between classes would—like in an H. G. Wells novel—eventually become a species divide? Where exactly does socialism or the avowed concern for the rights of "the common man" fit into that vision? Roughly as a sheep's clothing fits into the strategy of wolves?
Russell is also attributed with introducing the possibility of peaceful protest in the 1950s and 1960s, for example with CND's sit-downs against nuclear weapons, thereby setting the template (one he learned from Oxford-alumni Mahatma Gandhi) for non-violent resistance ever since. While it might be argued that violent resistance is easier for the ruling classes to deal with because they can meet it with greater force, there is a degree of social chaos that results from such open conflict that may interfere with business. It also forces the iron fist of government to remove its velvet glove, thereby alerting the public to the exact nature of the oppression they are under and sowing the seeds of future revolt. It's possible, then, that Russell (and by extension my grandfather), by rechanneling social unrest into peaceful forms of expression, were, in the long run, serving the interests of State and not the people.
*
Returning briefly to Robert Graves: according to The Birth of New Criticism by Donald J. Childs, Graves was the unacknowledged father of what's known as "New Criticism": a formalist movement in literary theory that dominated American literary criticism in the middle decades of the 20th century.[2] The movement derived its name from John Crowe Ransom's 1941 book The New Criticism, and its early practitioners formed a loose-knit community sometimes referred to (because of a literary magazine that featured much of their work) as the Fugitives, and also as the Agrarian poets (linking them up loosely with the camping movement of Glaister, Byngham, and co). Primary influences were the critical essays of T. S. Eliot and the work of English scholar I. A. Richards, especially his Practical Criticism and The Meaning of Meaning, which offered what was claimed to be an empirical scientific approach to poetry and literature. In a similar way, Eliot had argued that "the study of literature ought to strive towards scientific objectivity" (Childs). A scientific outlook.
To read the full article (& rest of this series), order The Vice of Kings: How Socialism, Occultism, and the Sexual Revolution Engineered a Culture of Abuse.
****
[1] This first came out in 1962, via the World Marxist Review. Four years later, the New York Times ran an article about how the CIA secretly funded the CCF's British magazine Encounter; soon after (also in 1966) it revealed that the CIA had been instrumental in creating the group.
[2] The full title is The Birth of New Criticism: Conflict and Conciliation in the Early Work of William Empson, I. A. Richards, Robert Graves, and Laura Riding. New Criticism emphasized close reading, particularly of poetry, to discover how a work of literature functioned as a self-contained, self-referential aesthetic object. This is the equivalent to removing a literary work from its context. Teaching people to think in boxes (separate compartments that have no need of any deeper context to be understood) is a way to get them to live in boxes, and eventually to become like boxes: separate, isolate individuals. "Every man is an island" becomes the truth of the modern mindset, and plays into the (entirely false) notions of the "self-made man" and the "meritocracy."  Compartmentalization or boxing was also key to the Prussian education system, the breaking up of learning into arbitrary "classes" separated by the ringing of a bell. It's also central to the shaping of information in TV (and even newspaper) media, each show or article boxed off from the others via commercial breaks (or margins on the page). All of this might well lead to an internal state, that of the "objective"—i.e., decontextualized—experience of self and world: a self-objectification.