To read the full article (& rest of this series), order The Vice of Kings: How Socialism, Occultism, and the Sexual Revolution Engineered a Culture of Abuse.
"For that group, the book of books was Davidson's History of Education. William James called its author a 'knight-errant of the intellectual life,' an 'exuberant polymath.' . . . Its purpose was to dignify a newly self-conscious profession called Education. Its argument, a heady distillation of conclusions from Social Darwinism, claimed that modern education was a cosmic force leading mankind to full realization of itself."
— John Taylor Gatto, Underground History of American Education
If this written exploration is for anyone, besides myself and those very few surviving family members willing to look at the hidden aspect of their heritage, it's for those that have passed on. Perhaps there are family members being wrongly implicated by this piece. There is always the possibility that even my grandfather was duped, that he was a useful liberal idiot, oblivious to the geopolitical social engineering agendas that were moving, like vast cosmic tides, around and finally over his castles in the sand. Yet, if one of those sand castles is Northern Foods—possibly the largest Food conglomerate in Europe, whose legacy in geopolitics continues to this day—it seems rather naïve, not to mention a disservice both to Alec and to history—to suppose so.
Before I get to the geopolitical picture and how Northern Foods' influence—via my uncle Lord (or is it Baron? I can't keep track of these peerages) Haskins—continued into the 2000s, I want to return to the intersection of progressive leftist movements with homosexuality, within the already described larger context of social reform, economics, psychiatry and the medical establishment, hallucinogens, literary movements and liberal intellectualism, pedophilia and, most distressing of all, intelligence operations in mind control. That means going back to the beginning once more.
A decade after the founding of the Fabian Society, in 1897, The Order of Chaeronea was founded by George Cecil Ives (friend of Oscar Wilde). It was a secret society for the cultivation of a homosexual, ethical, cultural and spiritual ethos. It was secret because homosexuality was illegal at that time and homosexuals needed a means of underground communication. The organization was inspired by and closely tied to the "Uranian" movement, Uranian being a 19th-century term that referred to a "third sex," originally someone with "a female psyche in a male body" who was sexually attracted to men.
Although there's no mention of Aleister Crowley in the records of The Order of Chaeronea, they could hardly have been unaware of one another, since Crowley was both a pioneer of "sexual liberation" and a practitioner of homosexual sex. The subject of sexual magick, while it's really of central importance to this investigation, is one I've avoided until now, because it becomes all-too-easy to lose the ground of factual reportage once strayed into more esoteric and philosophic waters. However, it's worth mentioning in brief (having just come across this material myself via author Phil Hine's website), that the Theosophical Society (tied to the Fabians via Annie Besant) was implicated in child sexual abuse in the early 1900 because of Charles Leadbeater. Canadian sociologist Stephen Kent writes in "Religious Justifications for Child Sexual Abuse in Cults":
"Leadbeater's practice of sex magick involved homosexual abuses, but this tradition is by no means limited to homoerotic activities. . . . Leadbeater was a pederast, and he used the Theosophical Society to gain access to boys so that he could engage them in various forms of sex magick (see Washington, 1995, p. 121). Remarkable, perhaps, about Leadbeater's pederasty was that he was able to sanctify it under the guise of spiritual training. Apparently, Leadbeater taught a sexual technique to an inner circle of initiates who claimed that 'the energy aroused in masturbation can be used as a form of occult power, a great release of energy which can, first, elevate the consciousness of the individual to a state of ecstasy, and second, direct a great rush of psychic force towards the Logos for His use in occult work.'"

According to Hine's "Breeding Devils in Chaos: Homosexuality & the Occult," this
"gave rise to the rumors that there existed groups of 'Black Magicians' who obtained occult power by psychically vampirizing young boys. [Author] Dion Fortune. . . alleged that there was a conspiracy of male occultists who used 'homosexual techniques' to build up what she called 'dark astral power.' She also blamed the decline of the Greek and Roman empires on those cultures' relaxed attitude to homosexuality. Although she never named any of these 'black adepts,' it is clear that she was probably referring to C. W. Leadbeater, and perhaps, also Aleister Crowley."
Hine refers to Crowley's male lover, the poet Victor Neuburg, "his partner in a series of homosexual sex-magick operations known as The Paris Working, where Neuburg & Crowley performed a series of invocations using anal intercourse as the means of achieving gnosis." The six-week ritual included strong drug use, as well as the occasional attendance of a Liverpudlian journalist named Walter Duranty. Inspired by the results of the Working, Crowley authored his treatise on sex magic, Liber Agapé. Following the Working, Neuburg distanced himself from Crowley, Crowley "cursed" Neuburg, and Neuburg (allegedly) suffered a nervous breakdown.
That was in 1914; a year before, in 1913, George Cecil Ives, along with Edward Carpenter and others, founded The British Society for the Study of Sex Psychology (BSSSP), "to advance a particularly radical agenda in the field of sex reform." It was particularly concerned with homosexuality, aiming to combat legal discrimination against homosexuality with scientific understanding. Members included Havelock Ellis, George Bernard Shaw, and fellow Chaeroneans Laurence Housman and Montague Summers (a clergyman with a leaning towards the occult who translated Malleus Maleficarum into English). Ernest Jones was also a member, and he is worth lingering on.

In the early 1900s, Jones had worked with and mentored under Wilfred Trotter, of Tavistock. He experimented with hypnotic techniques in his clinical work and applied Freudian psychology as an inspector of schools for "mentally defective" children. In 1906, he was arrested and charged with two counts of indecent assault on two adolescent girls he was interviewing. In court, Jones insisted the girls were fantasizing and was acquitted. He founded the British Psychoanalytical Society in 1919 and was President until 1944. In 1931, the BSSSP was renamed the British Sexological Society, and it seems to have continued until some point in the 1940s. It was largely through Jones' advocacy that the British Medical Association officially recognized psychoanalysis, in 1929. There's that year again—the same year that "Idiocy" became a diagnostic term for a congenital defect, and the London School of Economics began its training courses for psychiatric social workers.
In Germany in the 1930s, homosexual groups and individuals were being targeted as subversives (and eugenics were becoming national policy). In the 1940s, many countries in Europe (starting with Iceland) decriminalized homosexuality. In 1948, Alfred Kinsey published Sexual Behavior in the Human Male, revealing to the public that homosexuality was far more widespread than was commonly believed. The book also reported Kinsey's findings about child sexuality. Tables 31-34 were the tables or lists in the book which purported to display the number of times infants and young children were aroused when the researcher attempted to masturbate them. The table noted that "many of the infants cried and fought" against this so-called "clinical research."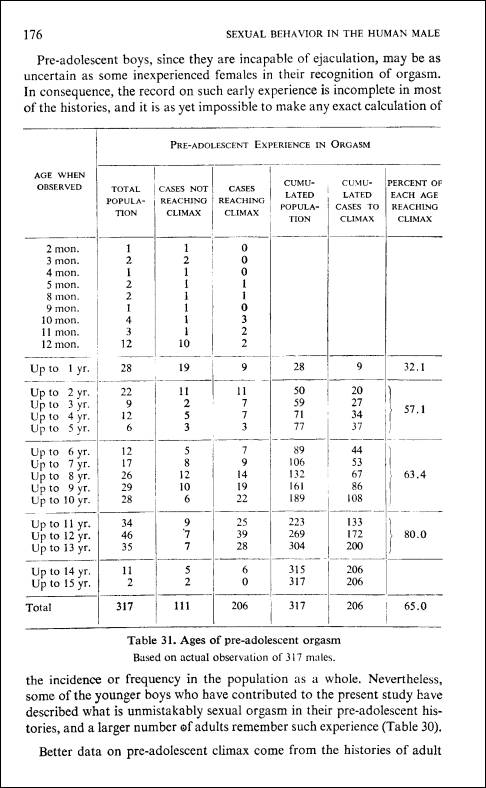 Even though this obvious sexual abuse of children was displayed in the text of the work itself (a study often said to have kick-started the sexual revolution), it was not until 1981 that Dr. Judith Reisman drew attention to the implications. Her charges were eventually confirmed, in the August 25, 1997, issue of the New Yorker, by James H. Jones, former-member of the Kinsey Institute's Scientific Board of Advisors; they were then validated by the Institute for Media Education. According to Reisman, however, Jones avoided any mention of the hundreds of infants and children under Kinsey's control.
"These little ones could not talk or flee from the sexual assaults, both 'oral and manual,' they endured from the Kinsey pedophile team, the 'trained observers' who used stop watches as they raped the infants and boys to record their 'thing.' Jones justifies these heinous and sadistic experiments by simply saying Kinsey desired to free society from its "disapproval of adult-child sexual contacts." [1]
In an audio-taped interview, Kinsey team member Paul Gebhard told Reisman that most of the "research" on children was done by "one individual, a man with scientific training, and not a known scientist. The other cases were done by parents [and] by nursery school personnel." The "man with scientific training" was known as "Mr. X," later discovered to be Rex King, a serial child rapist responsible for the rape of more than 800 children. "Some of these rapes were rendered to Kinsey in graphic detail, which he considered to be 'scientific research.' Kinsey never reported King to the authorities, meaning that "for over 50 years the entire Indiana University Kinsey Institute team collaborated in covering up sex crimes perpetrated against children involved in its research."
In 1992, Gebhard confirmed that "some of the men on Kinsey's child sexuality team included child molesters who were easily obtained from prisons and pedophile organizations around the world. . . . He also admitted to having personally collaborated in the child abuse inherent in Kinsey's research." A 1998 Yorkshire-produced documentary, "Secret History: Kinsey's Pedophiles," uncovered more facts about the "trained persons" who participated in Kinsey's experiments, naming Dr. Fritz Von Balluseck, "a notorious Nazi pedophile who contributed his child abuse data during the twenty year period of 1936 to 1956 to Kinsey's research data base."[ref]
Kinsey's research was funded by the Rockefeller Foundation (Alfred C. Kinsey: A Life, by James H. Jones, W. W. Norton & Company, 2004, p. 555). Kinsey corresponded with MKULTRA-psychiatrist Ewen Cameron and was an admirer, and possible correspondent, of Aleister Crowley. Kinsey tried hard to obtain Crowley's sex-magickal diaries after Crowley's death, and even made a pilgrimage to Crowley's Thelema Abbey, where Crowley allegedly conducted sexual rituals that included children. (Dr. Kinsey and the Institute for Sex Research, by Wardell Baxter Pomeroy, Yale University Press, 1972, p. 413)
James H. Jones described Kinsey as a militant propagandist, a sadomasochist and homosexual, "campaigning with scientific cover and on tax-exempt funds for his goal of undermining American morality to establish a sexual utopia." (Emphasis added.) What's perhaps most remarkable about this hidden history is that it remains hidden to this day, despite being very much on public record. The 2004 Hollywood movie, Kinsey, with Liam Neeson, presented a glowing picture of the sexologist. Despite some protests, mostly from Christian activists, the film was well-reviewed and won a bunch of major awards. Kinsey's reputation remains intact. How is this even possible in a cultural climate that views pedophiles as the most depraved and irredeemable of monsters? The answer would appear to be simple: science. Place blatant crimes in the context of science, and most people will not question them.


To read the full article (& rest of this series), order The Vice of Kings: How Socialism, Occultism, and the Sexual Revolution Engineered a Culture of Abuse.
Discussing Vice of Kings:
*****
[1] "The current Kinsey Institute Director, John Bancroft, recently derided Dr. Reisman as a 'moralist' and declared that she 'has no evidence that experiments were carried out on children.' Yet, Bancroft admits that Kinsey was 'misleading,' lied about the child sexuality experiments and that those who do sex research on adults and children 'still have to keep going back to Kinsey.'" http://www.crosswalk.com/archive/dr-kinsey-the-un-american-marquis-de-sade-518418.html
.